Expert Transmission Services for Dallas and Surrounding Area
Do you need transmission service in Dallas area? Our De Soto transmission repair and service facility have been providing quality transmission services over 30 years in the same location. We are the transmission experts. ASE certified mechanics and ATRA affiliation sets AllState Transmissions and auto repair apart from the competition. Come in experience our service and you will witness first hand that quality transmission service at affordable prices is not a myth but a fact with AllState Transmission and auto repair.
What is Transmission Service?
A transmission service belongs to your regular maintenance, much like an engine oil change or changing the coolant in your radiator. Regular service can assist you prevent expensive repairs to your transmission. Typically, you should have your transmission serviced every 24,000 miles, or twice a year. Certain makes recommend longer service intervals like 50,000 or 100,000 miles, nevertheless, these intervals may exceed any chance for you to identify problems early on so you can avoid minor problems turning into a major repair. Consider a transmission service as you would an engine oil change; a part of a regular maintenance schedule.
Generally, a transmission service substitutes about 1/3 to 1/2 of the fluid inside the transmission and is adequate for a regularly-maintained transmission. You may also want to change the filter at this time as well. For more extreme instances you may take into consideration a transmission flush.
Transmission Flush or Exchange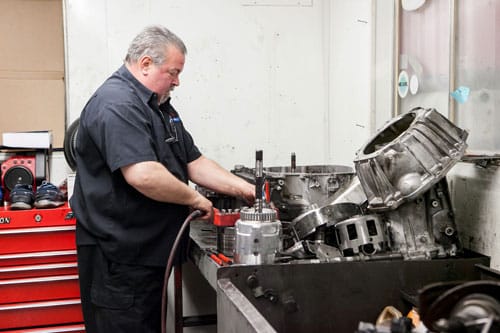 A transmission flush is intended to change almost 100 % of the fluid in your transmission. It requires a specialized device that pumps brand-new fluid with the transmission's lube and cooler circuit, changing the old fluid. Transmission Fluid Exchange and Flush equipment A word of care: these flush devices do not require replacing the transmission filter in order to exchange the fluid. If you elect the transmission flushed make certain you have the filter replaced also. Considering the filter is accessible. Some transmissions, like those made use of in most Hondas are not easily accessible and can not be replaced without disassembling the transmission.
Your decision to think about a routine service or fluid exchange can be figured out by the condition of your transmission fluid. Learn even more about transmission fluid condition here. In addition, lots of automatic transmissions today need unique fluid. Make sure you use the right fluid for your vehicle. Discover more information on transmission fluid types right here.
SEEING IS BELIEVING EXAMINE YOUR TRANSMISSION FLUID
There's a lot you can learn about the condition of your transmission just by examining the fluid. New transmission fluid is usually transparent, and relatively odorless. A few years ago, virtually every transmission fluid was red; technicians would aptly describe a transmission with exceptionally clean fluid as being "cherry."
Today, many manufacturers have begun to stray from the traditional red color. Transmission fluids may be green, yellow, some may even have a bluish tint. But in virtually every case, clean fluid will look clean and smell clean. So checking the fluid's color and giving it a little sniff is a great indication of whether your transmission is in good shape, or in need of service.
Here are the basic conditions you should be looking for: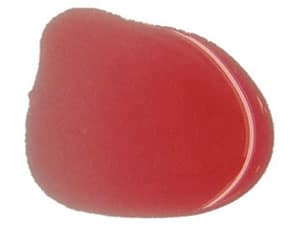 Clean, Clear Fluid, with Virtually No Odor
The fluid's like new. Chances are the transmission's working fine. Use the vehicle mileage or time since it was last serviced to determine whether you should have the transmission serviced.
Slight Brownish Tint, with a Lightly Burnt Odor
The fluid's beginning to burn, and is probably due for a service. If you didn't have the fluid exchanged completely the last time you had the transmission serviced, you may just be looking at the old oil that was left in the transmission. As long as the transmission seems to be working okay, consider a complete fluid exchange service in the not-too-distant future.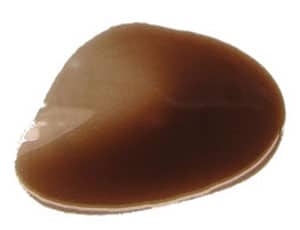 Brown Color, with a Distinctly Burnt Odor
The fluid's burnt, and you may already be experiencing transmission operating problems. If the trans seems to be operating okay, you might still get away with a complete fluid exchange service and filter replacement. But there's little doubt that the transmission is beginning to wear, so the best you can expect from a service is to buy some time. Eventually you'll be facing a transmission job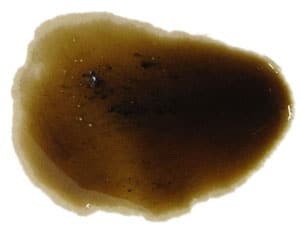 Black with a Stench that Will Make Your Toes Curl
The fluid's severely burnt, and the transmission probably is, too. You're probably experiencing a serious transmission operating failure. A service at this point will usually be a complete waste of money; the trans is going to need a rebuild. And there's the possibility of related problems, such as a clogged trans cooler or a cooling system problem. Make sure you have these systems checked at the same time, to avoid a second transmission failure.